"Man wird von allem satt, aber eins schmeckt besser als das andere." Dieses Zitat, ich weiß nicht mehr, woher ich es habe, gilt vor allem in Kamakura, wo uns unser Freund Ichi eine kulinarische Tour im Schnelldurchlauf präsentierte.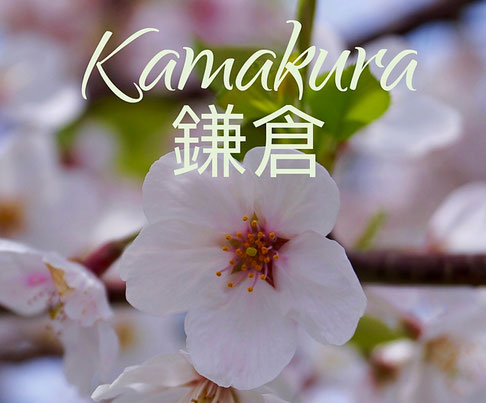 Stadtflucht, so scheint es, beinhaltet für Japaner Essen, Shoppen und idealerweise die Kirschblüte. Ein ehemaliger Kollege, Ichi, lud uns am Tag meiner Abreise zu einem Tagesausflug. Kamakura liegt ca. 50 km von Tokyo an der Küste. Historisch ist die Stadt nicht unbedeutend: Im 14. Jahrhundert lag hier einmal das politische Zentrum Japans. Heute zieht das Städtchen Touristen an. Für mich war der Ausflug wie ein schnell Durchlauf durch die japanische Küche - Soba, Softeis, japanische Süßigkeiten, Filterkaffee-Kunst und Kekse, die wie Schwalben aussehen. Im Vergleich zu Tokyo ist Kamakura weniger erdrückend - obwohl an Wochenenden ein ähnliches Gewusel herrscht. Könnte ich hier leben? Vermutlich. Die Nähe zu Tokyo ist reizvoll, doch man hat den nötigen Abstand.
Soba
Ja, schon wieder Essen. Ich kenne kaum ein anderes Thema zu Japan. Shopping ist einfach zu kurzlebig im Genuss: Gekauft, zack, vorbei. Essen dagegen: wirkt nach, allein wegen der aromatischen Gerüche. So wie beispielsweise die Soba des Restaurants Matsubara-an, das Ichi für uns heraus gesucht hatte. Allein hätten wir es vermutlich auch nicht gefunden, es liegt vergleichsweise versteckt in einer Seitenstraße. Definitiv die besten Soba meiner ganzen Reise.
Das Restaurant ist beliebt, insofern sollte man reservieren oder früh kommen, so wie wir. Wir gönnten uns eine Vorspeisen-Platte voller kleiner Leckereien. Als Hauptspeise wählten wir Soba, denn dafür ist das Restaurant bekannt. Meine Sesam (Goma) Soba waren so lecker, dass ich nicht daran dachte ein Photo zu machen – ich versuche seit dem, diese Sauce nachzukochen. Solltet ihr also einmal nach Kamakura kommen: Matsubara-an, Goma Soba!
Drip BREW Coffee
Nach den Nudeln gönnten wir uns einen Kaffee. Filterkaffee ist ja sonst nicht so meins - Reflux geplagten Mägen wie meinem stößt Filterkaffee einfach sauer auf. Der Filterkaffee Hype ging also weitestgehend spurlos an mir herüber – und drip brew coffee, was soll das überhaupt sein? Die Kollegen von Blue Bottle, die ich aus San Francisco kenne, erklären es: Es ist Filterkaffee, so wie Vaddern ihn macht.

Arguably the simplest and cleanest way to draw out a coffee's best qualities, the pour-over method is elegant without being prohibitively difficult.
Schaut man dem Herrn vom Idobata Coffee Stand beim Kaffee machen zu, hat man das jedoch Gefühl, man sieht dabei zu, wie ein Kunstwerk entsteht. Nicht nur mich hat das nachhaltig beeindruckt wie dieses Video zeigt:
Der kleine Kaffeewagen befindet sich in guter Gesellschaft von zahlreichen Süßwaren-Läden. Während der Kaffee durchläuft kann man in einigen Büchern blättern oder Souvenirs erwerben. Im Anschluss gönnt man sich dann im einen der Süßwaren-Läden kleine bunte Kugeln mit süßer oder – Obacht! – salziger Füllung. Ich glaube, ich trank Kenya. Kenya schmeckte wunderbar. Da musste der Magen einfach durch.
Kamakura Komachi-dori – Soft-Eis und Shopping
In der Komachi-dori gibt es, glaube ich, alles. Alles zu kaufen, zu essen und viele Menschen. Es war unser letzter Tag, und so habe ich versucht alles zu geben. Ich kaufte wunderschön bedruckte Fahnen mit Kois drauf, mittelgroße Schüsseln, kleine Schüsseln, eine Tasse. Ichi zeigte uns seinen Lieblingsladen für Softeis. Dieses Softeis! Bestimmt kein Light-Produkt, sehr lecker. Wie der Laden heißt, erinnere ich leider nicht. Probiert euch einfach durch. Ich habe so viel Laktosetabletten konsumiert, wie noch nie in meinem Leben. 
Ich habe gelernt, wie man betet, und habe meine Zukunft aus einer Box erschüttelt. Kyō, sagte mir der kleine Zettel, bedeutet: "... if you are careful now, your fortune will improve in the future." Aha. Darunter stehen Einzelheiten aufgelistet mit einem Kreis. Ich bin unsicher, ob ich ankreuzen soll, was mir am liebsten ist. Health: You will have a slight illness. Kenn ich, heißt Refluxkrankheit. Doch weshalb ist der Satz in der Zukunftsform formuliert? Your wish will come true unexpectedly if you are careful. Nach die Sau rauslassen klingt das nicht gerade. Marriage? Make careful observation of your companion once again. Daniel? Wieso das denn? – Business? Do your best for the sake of the world, though you are now in a difficult state. Bevor ich über den Weltfrieden nachdenken kann, erklären mir die anderen, dass man solche Zettel am besten ans Gitter knotet und den Göttern die Sache überlässt.
Wir beendeten unseren Ausflug und kehrten nach Tokyo zurück. Als Abschluss gönnten wir uns Sushi. Man kann nicht in Japan gewesen sein, ohne Sushi gegessen zu haben, sagte Ichi. Für mich stand der Abflug kurz bevor. Kurz nach Hause, zum Airbnb-Spot, die Koffer fertig packen und auf zum Flugzeug. Dank dieses schönen Ausflugs war ich um einige Erinnerungen reicher und um einige Yen ärmer. Flugzeug-Essen? Brauchte ich nicht. Ich hatte Soba, Drip Coffee, Soft-Eis und Sushi. Meine letzten 50 Yen streute ich in das Münzfach eines Getränke-Automaten am Flughafen Haneda: Mein erster – wenn auch unbedeutender – Beitrag zum Weltfrieden.