"Eat, drink and be merry. For tomorrow we may diet" habe ich kürzlich irgendwo gelesen. An jeder Ecke Kekse, Schokolade, Glühwein. Um die Gelüst etwas im Zaum zu halten, koche ich für Weihnachten als Vorspeise diese leichte Pastinakensuppe.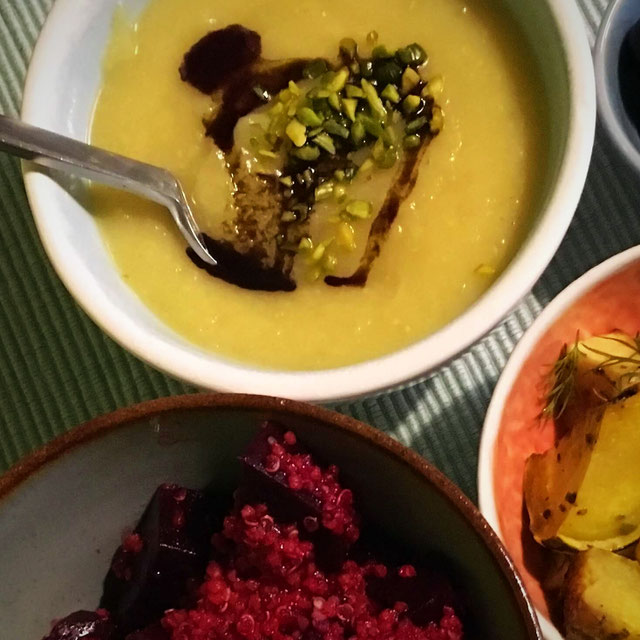 Für ca. 4 Portionen:
4 kleinere Pastinaken
2 Möhren
1 Apfel
ca. 0,75 - 1 L Wasser
1 Cup gemahlene Mandeln
1/2 TL Cayennepfeffer
Ewas Zitronensaft
1-2 TL Ghee
1 EL frischer Dill, Petersilie oder Majoran

Gut zu wissen:
Zubereitungszeit in etwa 20 Minuten.
So geht's
Pastinaken, Möhren und Apfel schälen und in kleine Stücke schneiden.
Das Gemüse in Ghee leicht andünsten und abschließend mit Wasser ablöschen, so dass das Gemüse gerade bedeckt ist. Alles zum Kochen bringen. Es dauert ca. 15 Minuten, bis das Gemüse dann auf kleiner Flamme gar gekocht wird.
Die gemahlenen Mandeln hinzufügen und das Ganze mit dem Zauberstab pürieren.
Mit Zitronensaft und Cayenne-Pfeffer abschmecken und ggf. noch etwas Wasser angießen, bis die gewünschte Konsistenz erreicht ist. Fertig für die Suppenteller!
Frischen Dill hacken und die Teller damit garnieren. Auch mit einem Schuss Kürbiskernöl wie oben auf dem Bild schmeckt die Suppe. Das Öl verleiht ein nussiges Aroma, das gut zum Gemüse und den gemahlenen Mandeln passt.
Wohl bekommt's