One of my New Year's resolutions is that I will never celebrate New Year with Sekt or Champagne again. That among other things.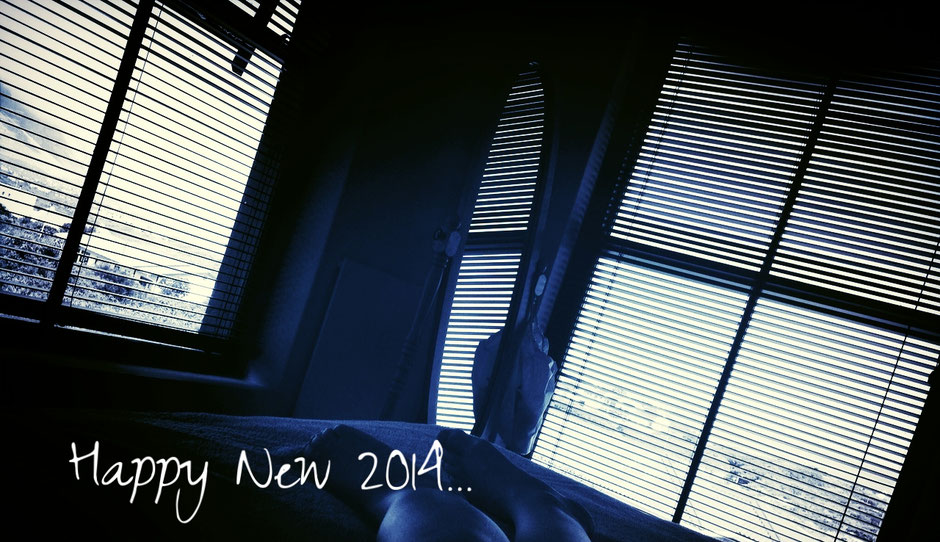 I never liked Sekt, but for some reason it is a tradition that moments of celebration require Sekt. But do they? After yesterday I've added one point to the list of things I want to do or don't do in 2014. I don't want to end what I suppose will be a busy year with a drink I don't like. Having a hangover on New Year's Day may be part of the game, but it somehow feels like erasing the first of 365 days of a new year. Am I getting old? Am I, at 35 now, ready prefer white wine over sparkling wine?
Maybe. Indeed some things were different at this turn of the year. For the first time I have made a list with New Year resolutions. I am becoming more efficient it seems. I started it, of course, because I suppose 2014 will be a busy year and I wanted to make sure I don't forget anything. So these points were mainly like a simple todo-list for everything that comes after January 10th (the last day of my holidays). But I also added things I have always wanted to do, but never did (oh, yes, I AM getting old!). The list for example says: I want to learn how to play an instrument. I had given up on that when I was a kid, after I had crashed my alto flute. I could not stand the sounds I created with it. I have the feeling I might be more patient now.
Plus, last year in January I came up with the idea to learn surfing. Usually I did not like sports where you need a lot of equipement, but then, when I was watching all the guys and girls going out for a surf in Fonte da Telha (while I was hanging out in the sun, sipping a coffee) I thought: Damn, I want to do something, too! So I booked a beginner's surf course at a Lodge in Arrifana for September 2013 and learned how to surf. It was the right thing to do, I already put it on my list for 2014: at least one week of surf, somewhere.
Why am I telling you this? Because some friends told me later how impressed they were that I learned something new, at 35, wow. It was probably not exactly what they meant, but that's how it felt. I guess it was meant as a compliment that I did try something new in my thirties, that most people try when they are very young, so that they become better during the years - and that I did try although I knew that I could not become an expert anymore. That really gave me food to think.
I knew how to ride a horse (I did vaulting as a teenager), and when I tried to do it again a couple of years ago (after I had not sit on a horse for 10 years or so), I still did remember much, but it's not like horse riding runs through my veins - not anymore. I even notice that suddenly I am almost a slight bit scared of horses (they are huge). This is a pity, riding horses was so much fun! It's like surfing, you are outside and you do stuff: fun! Same with slope skiing. I tried it twice, and I actually was very good at it at that time, in 10th grade, but I was never willing to give up on a summer holiday to be able to afford a winter holiday, so I never went skiing again. But skiing is fun! You are outside, and you do stuff!
It is frightening and disappointing to see, that, really, when we are getting older our behaviour and our attitudes change, and suddenly we notice starting something new seems an effort. It does, but then again, what doesn't? That's how we have grown to be who we are. It's like, a few years ago, we thought everything would be possible. Now we know, that's not quite as it is. 
I decided not to care about that. I decided not to care about whether I'll be a great surfer or whether I'll be happy to catch a wave (at all). It does not matter, it is about trying, and it is about putting yourself out there. Maybe it is harder when you are older, but we should stop wining about that. If you think it's harder, the more reason you have to be proud afterwards. 2014 started slow, with a cold, a hangover, and lots of rooibos and buchu tea with honey and ginger. But I know I'll be going surfing this year. Maybe even skiing, or horse riding. And it will be fun. Afterwards I'll be exhausted and inebriated with happiness. And I'll have collected memories for the future when I want to take a look back at the past. Let's get it on, 2014!